Museum für Sepulkralkultur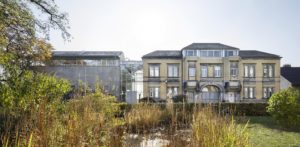 Kassel has an unusual institution in the Museum for Sepulchral Culture, which explores the culture of dying, mourning, remembering, and burying. Its permanent exhibition presents items related to sepulchral culture, primarily in the German-speaking world, from the Middle Ages to the present.
For documenta fifteen, the Mexican artist Erick Beltrán, who lives and works in Barcelona, Spain, addresses the power mechanisms that define, evaluate, classify, reproduce, and disseminate images and discourses. Together with a local research group, he addresses the question "What is power?" and presents the results in the form of a large-format installation with prints and sculptures. Hamja Ahsan's Halal Fried Chicken shop signs are visible in this as well as seven other venues of documenta fifteen, mapping aspects of Islamic history, diasporic urban fast-food subcultures, and colonial past.