temporary home 22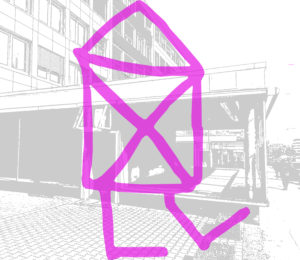 TEMPORARY HOME 2022
Opening event: 17 June, 17:00–late
Project dates: 17 June – 17 July 2022, open Thursdays–Sundays
Join us for the opening of temporary home! The evening will include 'Urbane Artenvielfalt pflanzen' (planting urban biodiversity) with Lena Fliessbach, a community meal, and music from DJ Morgenstern.
temporary home will open its doors in Kassel for the third time as part of the ruruHaus programme of documenta fifteen. This year, the collective will temporarily move into a glass pavilion with terrace in Kassel's city centre. temporary home acts as an inclusive collective and interdisciplinary platform and as a practical experiment of being with one another. As Donna Haraway writes, "To be one is always to become with many."
The basis of temporary home 2022 is the idea of collective process and a gathering of perspectives. What influence do external circumstances have on our life as a community? How have the developments of recent years (the pandemic, isolation, the increasing digitalization of everyday life, the progression of the climate crisis and war) shaped us on macro and micro levels? In what ways, if at all, do we wish to relate to these factors within the temporary home project?
During the month-long project, temporary home invites you to come by, join in, linger over a coffee on the terrace or an aperitif in the evening. Our experiment offers an open space for conversations, lectures, performance, shared meals, concerts, workshops, dance, gardening, and more. We want to share skills, care, and knowledge as common resources.
The content of temporary home is accompanied by an exhibition from our collective, with artworks by Liz McTernan, Verena Meyer, Max Rödel, and Lisa Tiemann.
Shared experience and experimentation are in the foreground of temporary home, as well as the serendipitous connections that can arise from being and doing together.
For programme updates, visit the link in our bio on Instagram:
@temporary_home_2022
and on the Webseite of the ruruHaus of documenta fifteen:
https://ruruhaus.de/en/kalender/
Where to find us at documenta fifteen:
Kurt-Schumacher-Str. 27
34117 Kassel